CropSignal Launches User Feedback Group
Rewards Participants with Free Subscriptions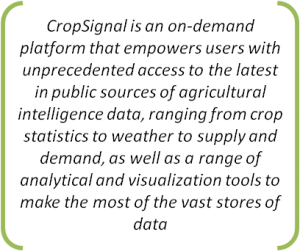 Want to know what new features are coming to CropSignal? Interested in weighing in with your opinion and expertise? Want to influence how new features work and what new content is made available?
Request to join our User Feedback group and use CropSignal for free through 2011.
After our successful launch of CropSignal, it is time for the CropSignal team to get back to work on enhancing the user experience, developing new features, adding new content and moving closer to our goal of redefining the agriculture intelligence industry.
As a member of the CropSignal User Feedback group we will share with you what we are working on and ask for your thoughts and opinions. We may ask you specific questions, show you screenshots or add functionality to your user account for you to try.   It is important for us to hear from you and know what your thoughts and needs are.
This CropSignal User Feedback group is for current or new users who intend to actively participate and be available to answer questions, test new features and provide feedback in a timely fashion. We understand that your time is valuable—to this end, we are pleased to offer User Feedback group members a free subscription to CropSignal for the remainder of 2011. Please note that the group will have a limited membership and you must request to join the group by taking a brief survey. If you are a current user and are selected for the group your subscription will be changed to free and follow the standard terms and conditions for subscription changes.
If you are interested in helping us define the future of CropSignal, you can request to join the CropSignal User Feedback group at www.surveymonkey.com/s/CropSignal_UserGroup
Thanks in advance and we look forward to your feedback!
Sincerely,
The CropSignal Team